The management structure and the corresponding management procedures will ensure an efficient steering of the project on a day-to-day basis which is essential for the overall success of the ERA-Net Cofund. The flat hierarchy as illustrated in the Figure.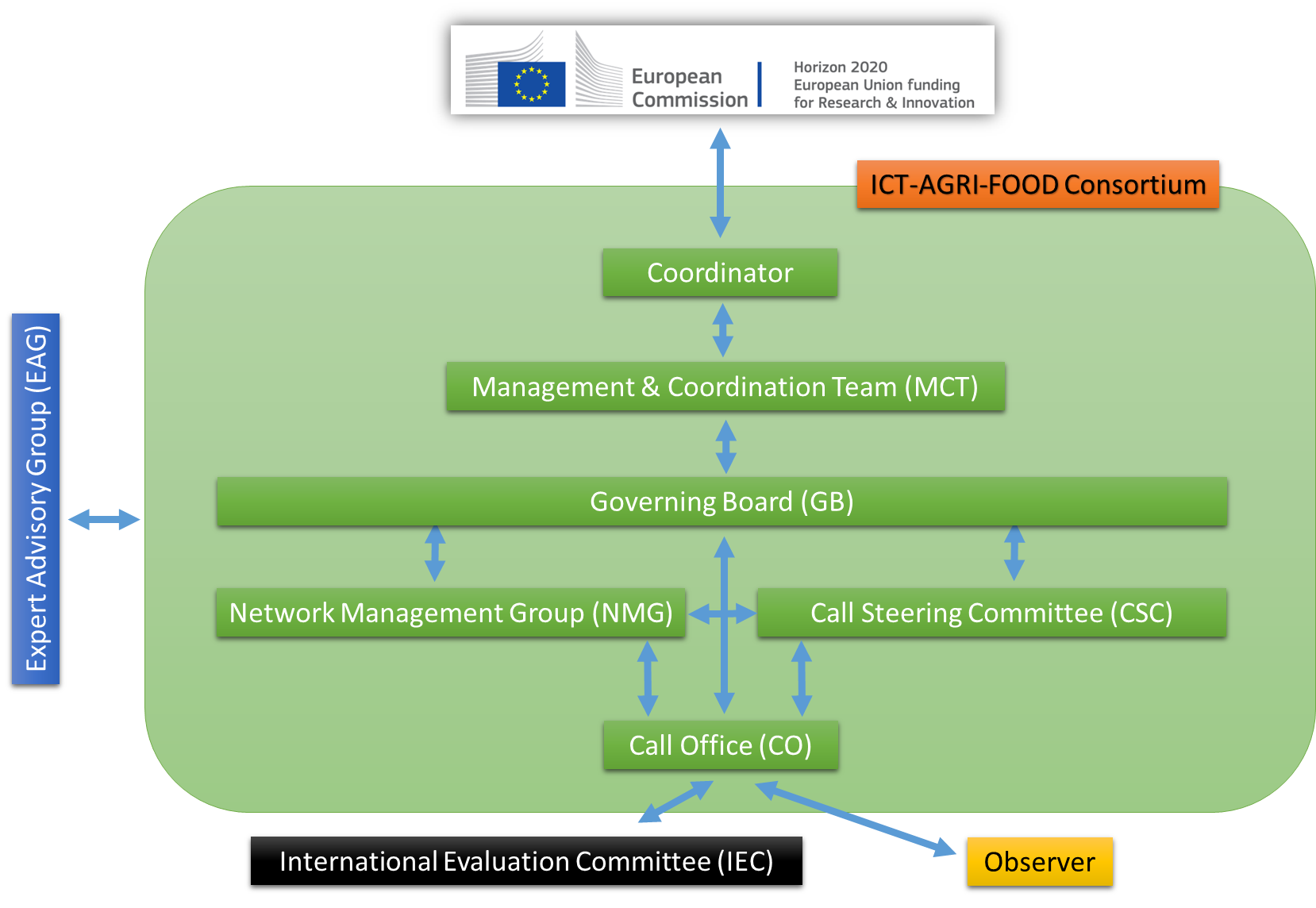 Governing Board (GB)
The Governing Board comprises one representatives from each of the 34 participating countries that are willing to actively contribute to and participate in ICT-AGRI-FOOD operations.The representatives are typically from research or agri-food ministries, research funding organisations or major research performing organisations that have the authority to take strategic  decisions and engage resources from national research funds. 
Network Management Group (NMG)
The Network Management Group (NMG) is a sub-group of the Governing Board and is composed of the work package and task leaders, chaired by the Coordinator. The role of the Network Management Group is to ensure the efficient and timely implementation of the whole work plan from the launch of the cofunded call (M1) to the final payment (M60). The Network Management Group will implement the decisions taken by Governing Board to address technical and organisational tasks for smooth communication and interaction between individual work packages. 
Expert Advisory Group (EAG)
To strengthen the partnership, we have formed an Expert Advisory Group (EAG) with experts from both academia and industry. The EAG's scientific advice will be taken into consideration for the strategic direction of the ICT-AGRI-FOOD Cofund Action with regard to relevance of activities and quality improvement, its effectiveness and visibility. The EAG will assist the Governing Board with their expert knowledge upon conjointly detected knowledge gaps and objectives when needed (e.g. for the new Scientific Research and Innovation Agenda, for preparation of call topics, conceptualisation of additional activities, such as workshops and seminars). One of the first important  tasks for the EAG is providing input and ideas for the planned "Knowledge Incubator".