An ICT-based real-time advisory tool to minimise tail biting in fattening pigs
                                                                                                                                                                            
Introduction
Tail biting is a major welfare, economical and ethical challenge faced during pig production. Monitoring the risks of damaging tail biting will be an important way to reduce its occurrence on farm and give farmers greater confidence to raise pigs with undocked tails. This project aims to develop and demonstrate a data-driven decision support tool that will actively advise farmers on how to reduce tail biting occurrences based on mainly behaviour-based variables collected remotely during production.
Background 
Tail biting represents a major welfare, economic and ethical challenge to modern day pig production and is a production issue of high priority within the European Commission1. The prevalence of tail biting is high despite tails being docked on 77% of EU farms. Tail biting is multifactorial and often related to the effect of boredom and multiple stressors (e.g. feed availability, thermal environment, and health status) on pig behaviour via the tipping-bucket concept. The range of potential causing factors mean it is difficult for the farmer to predict when an outbreak will occur and to determine why it has happened. Monitoring the risks of tail biting and supporting farmers with suitable intervention strategies can be an important way to reduce the incidence and severity of tail biting at farm level. However, this is a hugely laborious task, as it requires continuous monitoring of the pigs' behaviour and their environment alongside expert judgement on what (and when) intervention is needed. The only state-of-the-art objective mean of monitoring tail biting in commercial herds is at abattoir level (e.g. with TailCam ®). However, this leaves little chance to the farmer to adjust his husbandry.
Main project activities
The project defines four core objectives to fulfil the overall aim:
To optimise and integrate included detection algorithms.
To investigate the relationship between included parameters and risk factors of tail biting.
To demonstrate the developed decision support to in a commercially relevant environment
To discuss and create opportunities, barriers and guidelines for implementing the decision support tool.                                                                                                                                                                        
Expected impact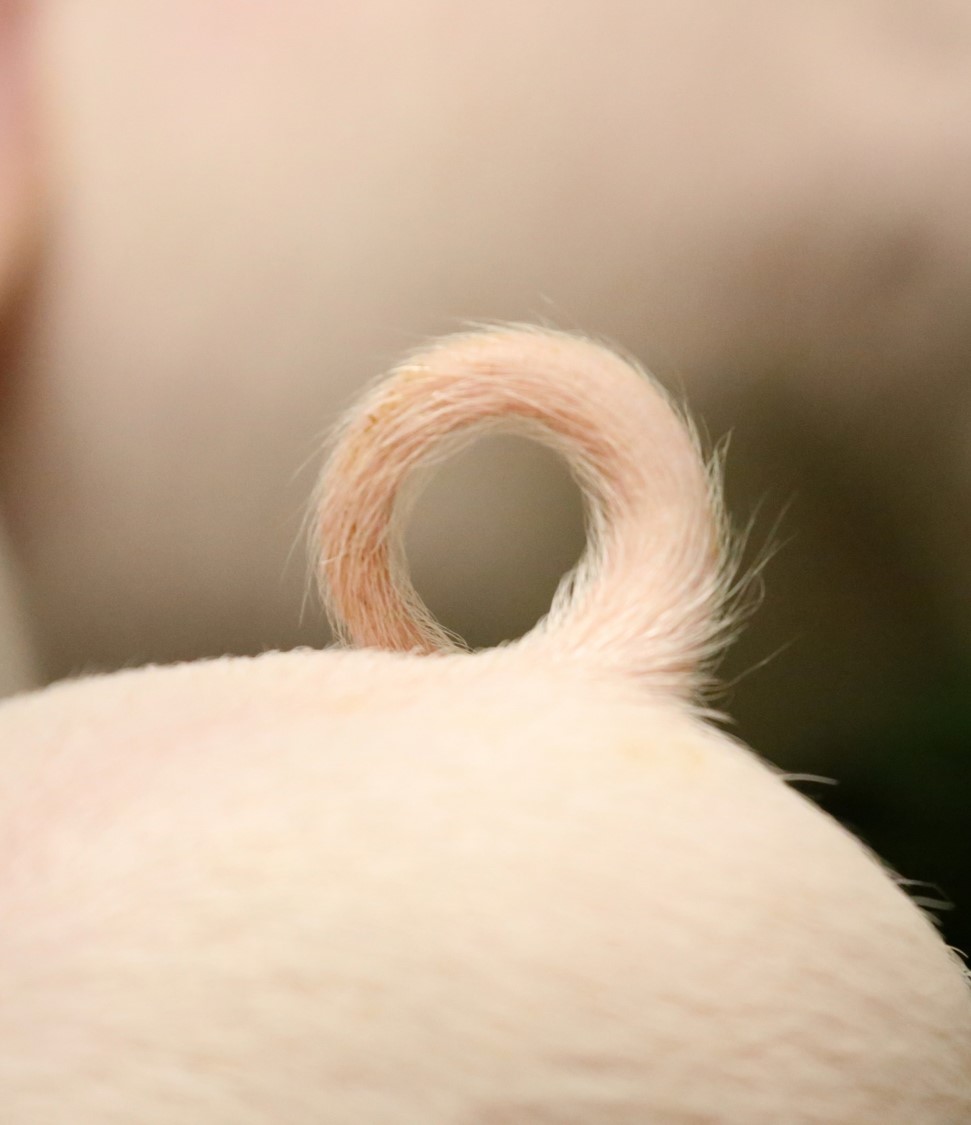 Results can be used to animal welfare, less waste of animal life due to on-farm euthanasia and carcass condemnations at the abattoir, and lower use of  antibiotics (with consequential benefits for antimicrobial resistance).
 Results can thus be an important instrument to support farmers' way towards a non-docking policy in EU.
 Results can provide consultants and inspectors with easy-access animal-based measures to be used in animal welfare auditing.
 Results can be used by retailers in the labelling of meat products and by farmers in benchmarking, which may improve production standards.
Consortium
  Coordinated by: 
Tomas Norton, Mona Lilian Vestbjerg Larsen and Dong Liu - KU Leuven, Belgium
Partners: 
Lene Juul Pedersen, Mona Lilian Vestbjerg Larsen - Aarhus University, Denmark
Keelin O'Driscoll, Laura Doyle - Teagasc, Ireland
Funded by:
FWO, Belgium
GUDP, Denmark
DAFM, Ireland
Video