From vineyard to bottle – trace sustainable practices in wine-growing under full transparency

Topic
Agri-food systems enabled by interconnected digital technologies that are more transparent to consumers, farmers and other stakeholders along the agri-food value chain.
Introduction
There is a growing need to strengthen the competitiveness of European wine producers, while at the same time the environmental impact of wine production is significant. Meanwhile, consumers are demanding more transparency on the environmental performance of high-value food products and are willing to pay for ecosystem services. Oenotrace aims to use digital tools and advanced algorithms to automatically track sustainable practices in viticulture with full transparency. Initially, the requirements for sustainability indicators and the digital ecosystem will be identified with strong stakeholder involvement. For a specific use case in Germany, an IoT network will be established to trace individual steps within the wine value chain. Using data from experimental sites in Germany and Italy, agronomic algorithms using grapevine models will be developed, calibrated and validated to provide recommendations for precise irrigation and site-specific spraying.
In conjunction with environmental models, water and GHG footprints will be defined at the field level, and a machine data processing and analysis pipeline will help quantify the amounts of inputs used, such as pesticides and diesel. A data platform will integrate all data streams and algorithms to finally provide information on the sustainability of primary production via a web front-end that can be accessed by different stakeholders. In a joint effort of grower associations and public authorities, the proposed system setup can be adopted for new bonus programs that reward improved environmental sustainability of wine growing practices. Together with the technical ecosystem architecture, the developed algorithms can also be applied to other specialty crops or even to arable farming. Oenotrace will provide winegrowers with new ICT-based means to improve their operational and environmental performance, while satisfying consumer demand for greater insight into production and potentially generating higher revenues. In the long term, beyond the scope of the research project, the results may lead to the development of new data-driven incentive/reward systems or more targeted subsidy programs offered by public authorities.
Background
European winegrowers are under increasing competitive pressure, while the environmental impact of winegrowing is significant. Consumers of wine are demanding more transparency about its environmental performance and are willing to pay for it. ICT-based traceability solutions for the wine value chain and research have so far paid little attention to environmental processes in the vineyard. This applies in particular to the management of land, water, energy and chemicals, as well as GHG emissions. For wine, the latter are mainly generated in the primary production with the use of various inputs. Previous LCA approaches are based on tabular values, but this is particularly inadequate in viticulture, where material flows are much more complex than at other points in the value chain.
Main project activities
Seamless mapping of the value chain under the involvement of all relevant actors to specify demands regarding the transparency of sustainable growing practices
Establishment of an IoT network for automated acquisition of relevant data in the single seasonal phases of grapevine growing, as well as in the subsequent processing and distribution steps
Development of a data processing pipeline for automated collection and analysis of machine and supplementary sensor data related to any relevant operations in the vineyard
Development of agronomic algorithms involving phenotyping data and modelling of specific grapevine parameters to derive decision support for variable rate spraying, as well as irrigation scheduling and dosing
Development of environmental models to quantify the sustainability impact and future climate compatibility of specific growing practices and deduce tangible sustainability indicators to be provided in a digital product passport
Establishment of a data platform aggregating all data streams, integrating relevant models and data analytics engines, providing controlled access and information to different stakeholders along the value chain and ensuring seamless interoperability between different subsystems
Verification tests within a specific use case and field experiments conducted in pilot vineyards in Italy and Germany for agronomic validation
Beyond-research activities including dissemination, exploitation and communication of the achieved scientific results
Expected social impact
The Oenotrace consortium is strongly committed to the development of networked digital solutions that will contribute to meeting consumer demand for a more traceable and transparent wine value chain. This will also allow the transfer of knowledge and the education of consumers towards more sustainable behaviors, increasing their trust in the information provided about the origin of the wine, its agricultural practices and winemaking processes, its transport and storage conditions, its carbon footprint and the environmental impacts associated with all stages of the value chain. The positive impact of the innovations generated by the project will lead to increased revenues and profitability in our European wine production systems, thereby increasing growth and jobs, particularly in rural areas. The project will foster new business models and opportunities based on networked digital technologies that will facilitate transparency in the wine value chain and beyond. Oenotrace aims to develop a realistic protocol for reducing GHG emissions (per unit of wine consumed). It will do this by improving resource use efficiency on the farm and at each stage of the wine value chain, by ensuring that more safe products reach the consumer for a given level of resources used, and by steering towards even more environmentally friendly policies and governance. The Oenotrace concept encourages citizens to actively participate in the wine value chain and make informed choices. The social impact of wine products will be made visible to end consumers, highlighting the social aspect of the proposed interconnected digital technology solutions.
Keywords
Wine value chain
Transparency
Sustainability
Digital product passport
Multi-source data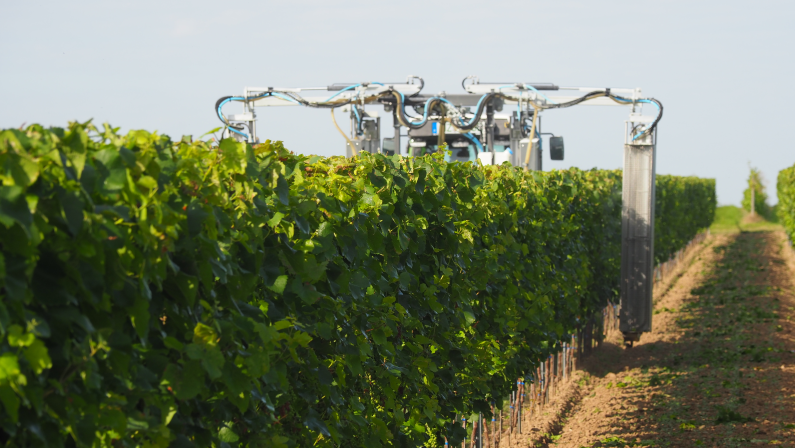 Project coordinator
Prof. Dr. Dimitrios S. Paraforos - Hochschule Geisenheim University, HGU, Germany
Partners
IRELAND: University College Dublin, UCD
ITALY: Consiglio Nazionale Delle Ricerche, CNR IBE
ROMANIA: BEIA Consult International, BEIA
DENMARK: Department of Agroecology, AU
GERMANY: Deutscher Weinbauverband e.V., DWV
GERMANY: EXA Computing GmbH, EXA
Expected project start date and end date
The Oenotrace project starts on 1 June 2023 and runs until 31 May 2026.