DRG4FOOD Open Call #1 is Now Open!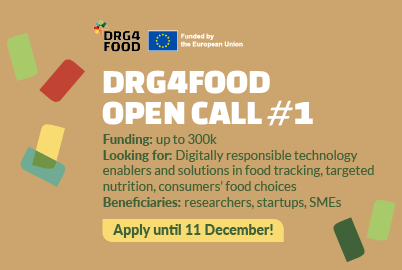 Are you a SME, a startup, or a researcher working on innovative data-driven solutions in food tracking, targeted nutrition, or consumers' food choices? If so, you're in for a treat because the #DRG4FOOD Open Call #1 is now open!
The Opportunity:
The DRG4FOOD Open Call #1 offers up to 300,000 euros in equity-free funding!
Who Should Apply?
You are the perfect fit if you are actively engaged in any of the following areas:
Food Tracking: Innovations in tracking the journey of food from farm to fork, ensuring transparency and traceability.
Targeted Nutrition: Data-driven approaches to tailoring nutrition to individual needs, improving health and well-being.
Consumers' Food Choices: Solutions that assist consumers in making informed decisions about their food, promoting sustainability and better eating habits.
How to Apply:
The open call invites multidisciplinary consortia comprising 2-3 entities, including startups, SMEs, research organizations, universities, technology adopters, and users in the food sector, with a focus on NGOs and consumer associations. Consortia must demonstrate the capacity to develop data-driven solutions aligned with Digital Responsibility Goals and actively engage with end-users to shape technical requirements and improve pilot activities. Specific consortium conditions are in place.
If you want to know more about the application process, don't miss our next webinars: DRG4Food Guidelines Webinar #1 | F6S
It's simple to get started! Simply go to the official website and click on the #DRG4FOOD Open Call for further information to start your application process.
Save the Date!
Join the info webinar on October 12th to dive deeper: https://www.f6s.com/drg4food-guidelines-webinar-1
Why DRG4FOOD?
By participating in this open call, you'll not only secure funding but also benefit from a network of experts, mentors, and resources to nurture your project's growth.
DRG4FOOD is dedicated to assisting you at every step of your journey.
Click on this link and apply today: drg4food