Information Agrifood quality estimation using hyperspectral techniques
                                                                                                                                                                                   
Introduction
One of the most important challenges the modern world is facing is food insecurity, while little progress has been achieved at introducing non-destructive and reliable food quality assessment methods at both pre- and post-harvest stages. SPECTROFOOD aspires to develop digital technology solutions for use in the agri-food value chain, combining innovative Hyperspectral Imaging Systems, Artificial Intelligence techniques, analytic tools, and data platform – related solutions in order to reduce food waste while optimizing the use of production inputs, taking steps for a transition towards resilient and sustainable agri-food value chains. Those solutions will be demonstrated with end-users from the primary production, processing, packaging, and distribution across four distinct use cases, each focusing on a different high-value crop (apples, broccoli, leek, mushroom).
Background 
Minimizing food losses and waste at the various stages of the supply chain is considered the holy grail of the agri-food industry, at the same time resource use has to be optimized to ensure sustainable high-quality food production at steady prices. Currently adopted fruit and vegetable quality inspection processes, constitute one of the facets of the food waste problem as they are based on random sample inspection (around 1-3% per batch) and mainly involve destructive methods that are laborious and expensive. The Agri-food industry urges for non-destructive, rapid, and accurate technology-enabled quality inspection methods. However, there is limited research between the pre-harvest treatments and post-harvest temporal response of product quality characteristics. At the same time, data generation and collection have increased exponentially.  SPECTROFOOD aims to capitalize on that by proposing a methodology to monitor product quality from the production right through to consumers, by leveraging Hyperspectral Imaging Systems (HIS) and Artificial Intelligence. 
Main project activities
1. Establish links between in-field treatments and product quality contributing to:
the promotion of environmental-friendly and efficient in-field practices
high-quality agricultural products
the reduction of food waste
2. Leverage state-of-the-art HIS to collect data, at various stages of the agri-food value chain, to reveal critical, product-related quality characteristics
3. Deploy AI algorithms trained with hyperspectral data and organoleptic lab measurements to obtain useful quality indices
4. Build and use the SPECTROFOOD digital platform to:
issue quality notifications and alerts
propose best practices for pre- and post-harvest treatment optimization
efficiently trace the product traceability.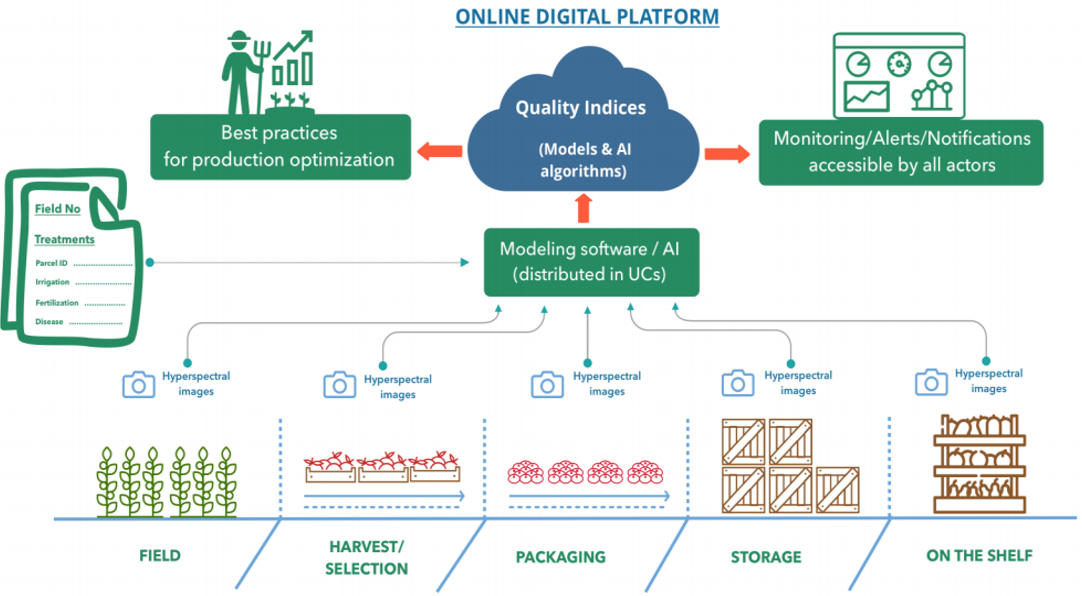 Expected social impact
The EU farming sector is considered a lifeline for Europe providing jobs and income in rural areas. Yet, 28% of the EU-28 population is living in rural areas, with 9.1% of those facing unemployment, 19.8% of inhabitants being at risk of (monetary) poverty, and 8.3% living in severe material deprivation[6]. Only 6% of farm holdings in the EU are run by farmers under the age of 35, whereas persuading more young people to become involved in farming is a significant challenge [7]. The technical knowledge, new workforce types, and the introduction of the innovations proposed by SPECTROFOOD will contribute to making agriculture more attractive to young people. Moreover, SPECTROFOOD's data platform will give access and transparency to value-chain actors and raise awareness on agri-food products' lifecycle. Finally, SPECTROFOOD will contribute to the EU Farm to Fork Strategy by proposing innovative digital technologies to improve resource management enabling the agri-food value chains to reduce food waste while ensuring safe and high-quality food.
Implementation and plans to reach target groups
A multi-stakeholder digital platform will be developed to be used as a gateway to ensure cross-sectoral engagement and access by the supply chain stakeholders (and the wider community) in the use case context and beyond. SPECTROFOOD will maximize its impact by identifying its target groups and understanding their needs related to the supply chain management and the use of digital technologies. The key messages to be delivered per stakeholder type:
SPECTROFOOD target groups and the key messages to be delivered Target group

 

Key Message

Rural agri-businesses

SPECTROFOOD will enhance your business through robust technologies for efficient handling of products minimizing waste and ensuring a high quality of the food distributed.

 

Farmers

SPECTROFOOD is going to bridge the pre-harvest treatment with the post-harvest food quality. It will deliver objective measurements to you to optimize resource usage and improve product quality.

 

Research and scientific community

SPECTROFOOD aims to directly connect pre-harvest treatments with post-harvest control and monitoring, all the way to the quality of the final product. This will be achieved by combining AI tools with hyperspectral imaging technologies.
Consortium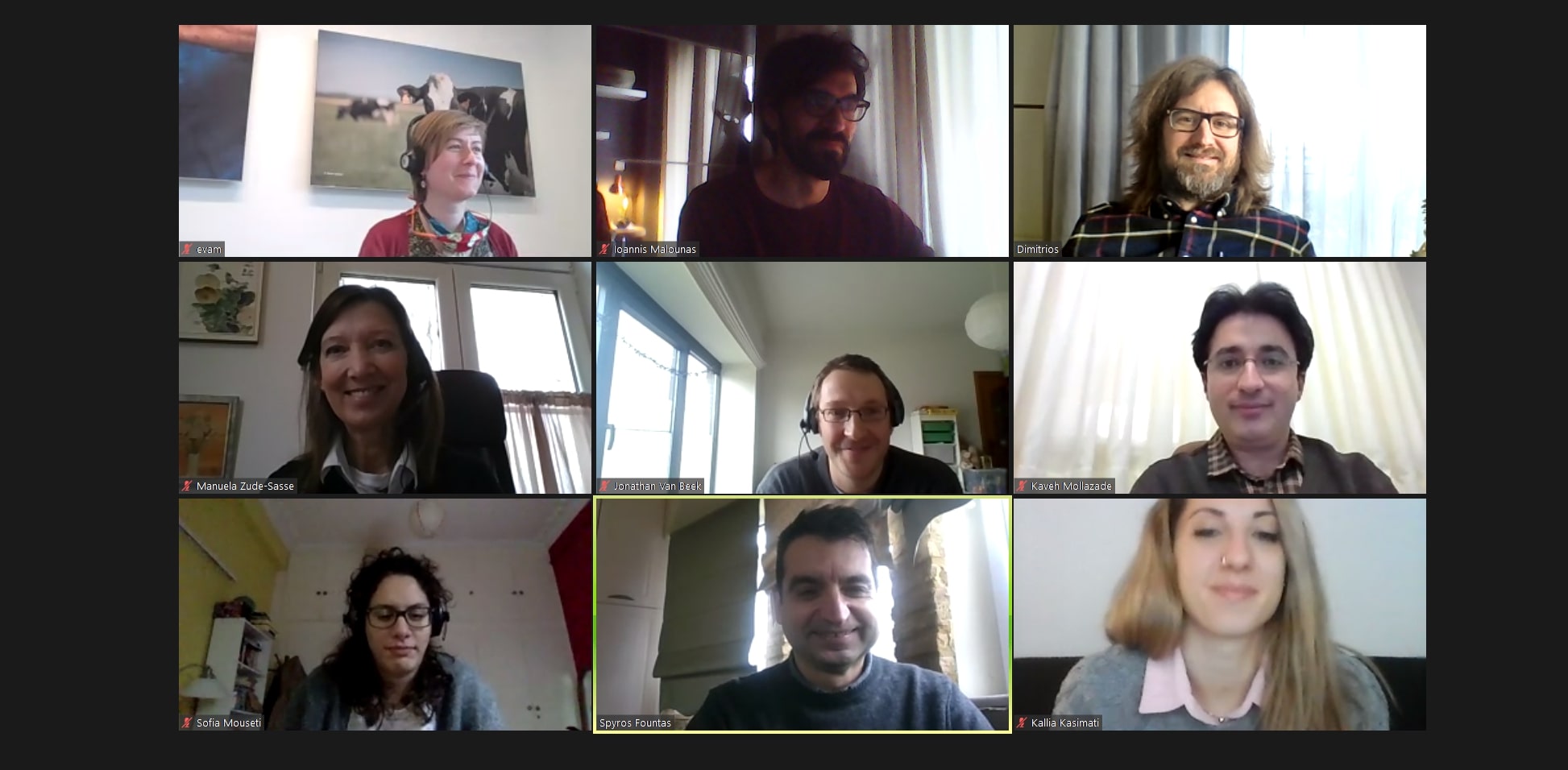 Coordinated by: 
Spyros Fountas - Agricultural University of Athens, Greece, sfountas@aua.gr
Partners: 
Manuela Zude-Sasse - Leibniz Institute for Agricultural Engineering and Bioeconomy, Germany
Jonathan Van Beek - ILVO, Flanders Research Institute for Agriculture, Fisheries and Food, Belgium
Dimitrios Argyropoulos - University College Dublin, Ireland
Funded by:
GSRT, Greece
BMBF, Germany
VLAIO, Belgium
DAFM, Ireland
Video
News Articles